Rich Motor Company
Rich motor company RMC is the most trusted Gensets, Diesel Generators power and O&M services in the UAE, Middle East, and Africa.
We proudly host one of the largest modern canopy manufacturing facility in UAE, covering an area of 20,000 sq Meters. Our Products are manufacture under strict international quality control standards.
We have a team of experts who listen carefully and develop a unique solution for each project. Many highly skilled technicians are always ready to work globally, no matter how remote the site may be.
We build, install, and service power solutions tailored to fit any need up to 2 Megawatts.
Rich Motor Company RMC ships and installs emergency diesel generators and prime power solutions in UAE, Saudi Arabia, Iraq, Eritrea, Sierra Leone, Burundi, Sudan, Chad, Tanzania, and over 50 Other countries.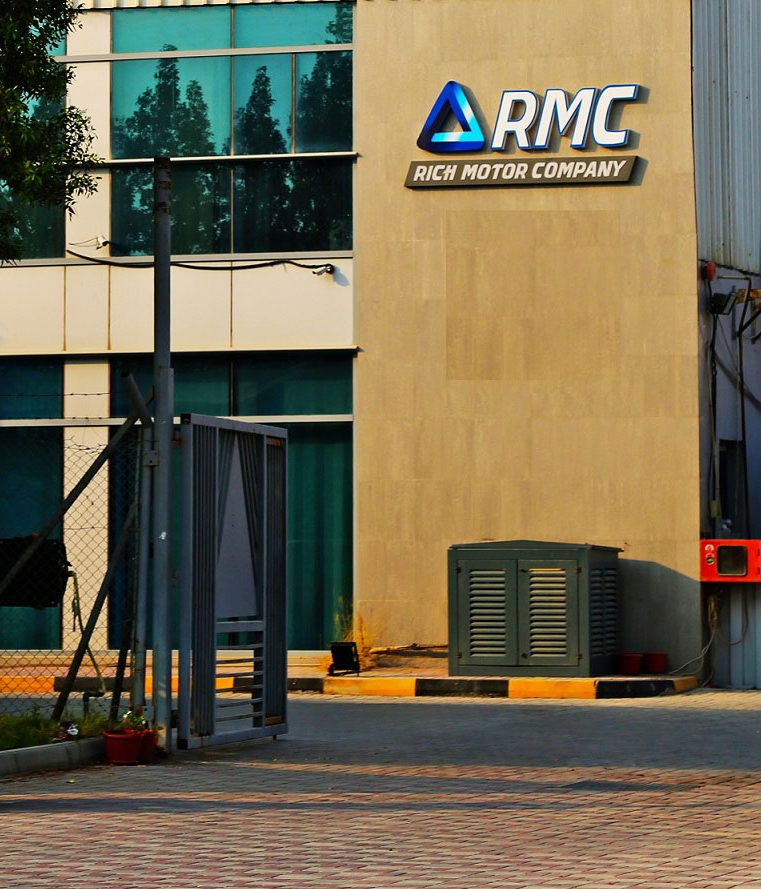 24/7 emergency call-out support
Our engineering design division provides clients to transform their conceptual sketches to manufacturing-ready drawings.
Guaranteed parts availability and delivery
We have a big stock of parts as a backup and instant delivery service.
Full warranty terms and conditions
We offer a full warranty for equipment and parts as mentioned in the warranty terms.
Specialist product training centres
We offer training at our regional training centres for the handling of our equipment and ensure smooth working
Assistance with PERKINS Genuine Parts enquiries
We offer assistance with the parts selection of genuine products and ensure good quality.
Best product Solution Assistance
We assist you with the exact motor that solves your problem and best fits for cost and performance.
Rich Motor Company RMC offer diesel genset powered by Kubota, John Deere and RMC G-drive engines Powered by Cummins in UAE and Middle East. RMC diesel generator sets deliver dependable, clean, economic power – even in the harshest conditions.
RMC gen sets are available in a wide range of configurations with optional equipment RMC generator sets are design engineered and manufactured for optimal performance. All major components are tested individually. Once assembled, the entire unit is tested at 110% of the rated load for safety and operation. These complete, ready-to-run packages have another distinct advantage: They all come with the comprehensive service and support of RMC dealers – beginning with prompt delivery and ongoing support throughout the life of the generator set.
Rich Motor Company RMC Low voltage panels are widely used in synchronizing generators, Offering multiplexing solutions. RMC is specialized in designing and manufacturing a wide range of LV control
Synchronization panels are designed and used to meet power system requirements. These panels provide manual as well as automatic synchronizing functions for one or more generator breakers. 
High voltage / low voltage generating sets.
High voltage switchgear.
Synchronizing/load-sharing panels.
Step up and step down transformers.
Road assistance and even Recreational, our top of the line Lightning pro-Kubota tower lights never fail to amaze for construction.
Lighting the pass where no other can reach.
Formed, welded steel, Heavy-duty enclosure with impact-resistant rust-proof molded poly lift doors for full-service access.
Engineering and Sound Proof Canopy
We are the leading Manufacturer of generator shades, sound evidence canopy, acoustic generator shelters, blower coverings, link machine shelters, and generator canopies.
We offer a standard scope of DG set fenced-in acoustic areas from 5 kW up to 2000 kW. These canopies provide for various generators with distinctive particulars, mainly intended for diesel-engined producing sets.
We deliver accuracy designed Sound Proof Canopies for our esteemed customers. Driven by advancement, these Sound Proof Canopies are perfect for generators, blowers, blowers, sewing machines, water-powered machines, link machines, and numerous others.